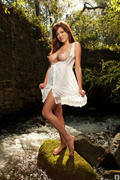 School: University of South Carolina
Major: Business
Birthday: January 23, 1992
Height: 5'1"
Weight: 105 lbs
Measurements: 32DDD-27-35
Playboy: What are your future plans?
Tessa: I would love to be a special effects artist! I love blood and gore, but only when it's not real. Plus, it would be so amazing to be a part of the "guts" of a Hollywood movie.
Playboy: How do you spend your free time?
Tessa: You can find me and my friends at Carolina Gamecock sporting events or shopping at the mall. I also really enjoy drawing and painting. Oh, and of course I try to squeeze in as much Skyrim as possible!
Playboy: What makes a man sexy?
Tessa: The sexiest kind of man is a funny one. If you can make me laugh you can make me do anything! I also love ambition, a great smile and strong hands. There is nothing quite like being held by big, strong manly hands!
Photography: Jared Ryder