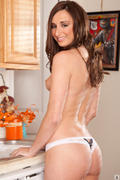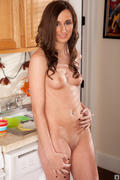 School: Mississippi State University
Major: Animal and Dairy Science
Birthday: October 12, 1989
Height: 5'11"
Weight: 125 lbs
Measurements: 34B-26-38
Playboy: That's an interesting major you have.
Goldy: I'm a big animal lover! In addition to studying to be a veterinarian, I do a lot of volunteer work and fostering for animal rescue organizations.
Playboy: Would you describe yourself as a girly girl?
Goldy: I love being pretty and dressing up but I'm a tomboy at heart. I love sports, hanging with my guy friends, and I'm a very hard worker…even if it invoves getting dirty.
Playboy: What kind of music do you like?
Goldy: I often assign my Pandora playlist on the Cranberries station. That always puts me in a good mood.
Photography: James Johnston